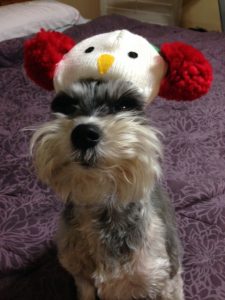 I had been speaking for about a week and a half and was glad to be home. All was perfect: My two miniature Schnauzers were happy Mama was back and Amos had curled his body into a tight little ball in his doggie bed while Obie was nestled underneath a blanket on my lap as I relaxed and watched a little TV.
When I got up to get some munchies, Obie ran outside. I came back and resumed relaxing thinking he was curled next to Amos. About half an hour later, my doorbell rang. Who could be on my porch at 8 pm? I thought. It was totally dark and cold outside.
I turned on the porch light, opened the door and was greeted by my neighbor and friend Mark who was holding Obie in his arms. What?
Mark laughed and said, "Melissa and I were watching TV and looked up to see Obie staring at us from the patio."
Obie had dug underneath the fence between our yards and decided to visit the neighbors.
I scooped the little furball into my arms and said, "I didn't even know he was gone! Thanks so much for bringing him home."
Allow me to state the obvious: Sometimes we tend to wander spiritually—but it's such a slight detour that we don't immediately realize we're not where we should be.
I'm so thankful for a loving heavenly Father who will scoop us in His arms, invite us in from the cold and bring us right back to where we need to be.
http://susieshellenberger.com/wp-content/uploads/2016/04/susielogo-300x93.png
0
0
Susie Shellenberger
http://susieshellenberger.com/wp-content/uploads/2016/04/susielogo-300x93.png
Susie Shellenberger
2017-01-26 14:50:53
2017-01-26 14:39:06
Come Back Home